About 1600 km from Hyderabad, a holiday in the Maldives is a pleasant escape from the hustle-bustle of city life. Whether you want to get away for a solo vacation or a family trip, a Maldives trip from Hyderabad is the ideal choice. Check this guide to find all the important tourist information that you need to reach Maldives from Hyderabad.
A paradise on Earth, Maldives is located in the Indian ocean and is one of the most sought after tourist destinations for travellers from Hyderabad. Mesmerising scenic beauty, refreshing environment and adventurous activities make the island of Maldives popular amongst Hyderabadis.
The shimmering white beaches surrounded by turquoise lagoons, greenery of palm trees, coral gardens beneath the Indian Ocean and blue water of the ocean create a setting that is perfect for all kinds of vacations.
Swimming alongside the sharks, snorkelling among the colourful corals or jet skiing with your group, whatever you want to, the sea is all yours.
And the Maldives is also the perfect honeymoon destination for couples.
But whether you're going for a fun-filled family time or a romantic getaway from Hyderabad with your partner, you'll appreciate the Maldives.
Maldives Map from Hyderabad, India
How to reach Maldives from Hyderabad?
Hyderabad to Maldives by Flight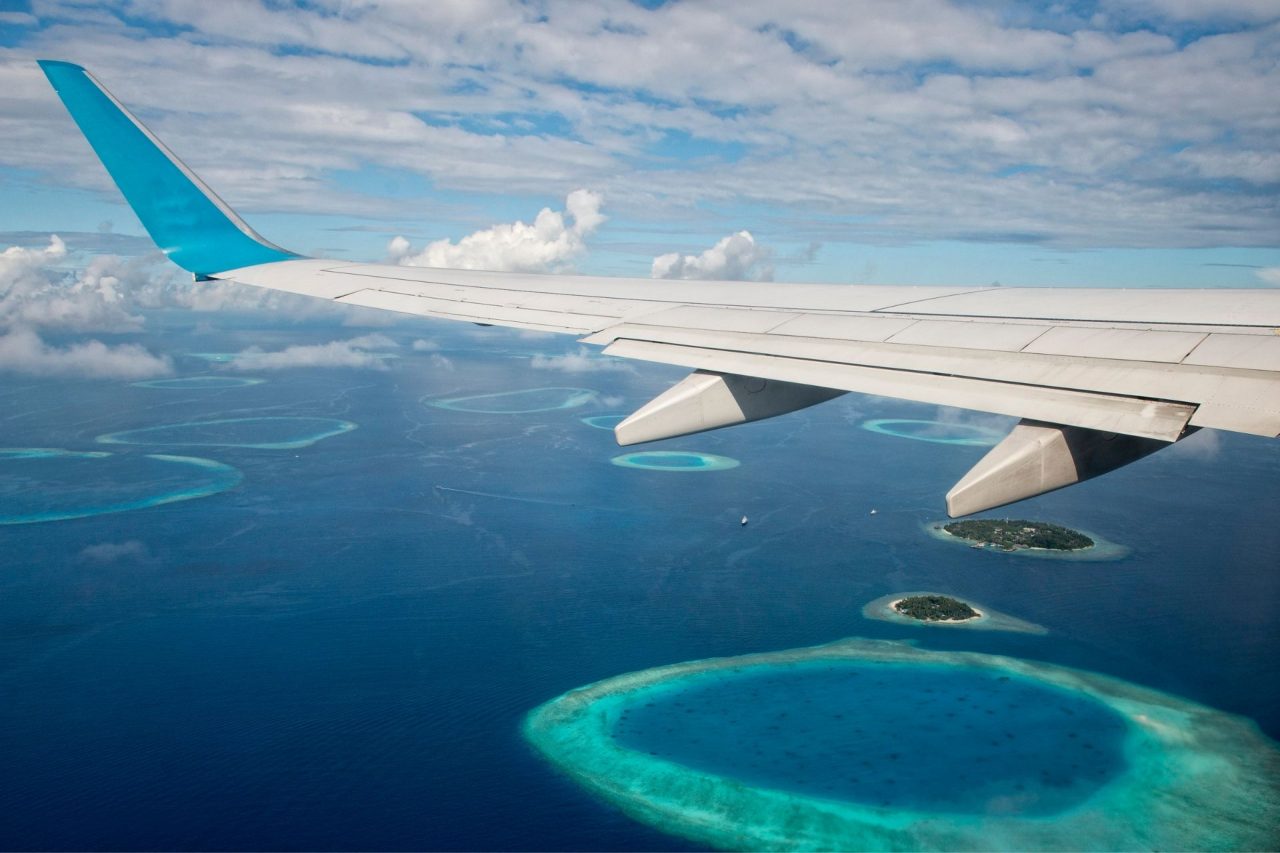 Duration
There are no direct flights to Maldives from Hyderabad. But many airlines have one-stop flights via Bangalore or Mumbai. You can also find connecting flights to the Maldives, from Kochi or Trivandrum. And depending on the duration of the layover, these flights can take anywhere between 4 and 10 hours to cover the distance between Maldives and Hyderabad.
Flight Companies
Go Air and Indigo has regular one-stop flights from Hyderabad. And they take around 8-9 hours to reach Velana International Airport in the Maldives. Srilankan Airlines flights take you to the Maldives via Colombo, in only about 4-5 hours.
And you can also book your ticket in Air India, SpiceJet or other flights to reach the nearby connecting airport to the Maldives.
Average ticket price
The average price of a Maldives flight from Hyderabad costs around ₹15,000 per person. The cheapest flight is of GoAir, via Bangalore, whose fare is around ₹10,000 per person. A ticket on other flights cost around ₹40,000 (or more) per person.
Maldives Airport
Most flights from India to Maldives, land at Velana International Airport in the capital city Malé. So, whether you take a flight via Bangalore, Mumbai or another city, you'll probably land there. It is the main international airport in the Maldives, built on Hulhule island.
And from the airport, you can get on a seaplane or speedboat to reach your destination island. Many resorts in the Maldives too, have private seaplanes and speedboats to pick up their guests. And as per your package, your tour operator might also arrange the transfer from the airport.
Gan International Airport is another international airport in the Maldives. It is in the southern Maldives and some flights of Srilankan Airlines land there. And if you take a flight of Maldivian, from Trivandrum or Kochi, it will land at Hanimaadhoo International Airport.
So, make sure you check your tickets to avoid unpleasant surprises upon landing.
Hyderabad to Maldives by Road (possibility)
You can't go to the Maldives by road. But, if you want to enjoy a road trip on the way to the Maldives, you've got many options.
You can drive to Bangalore or Mumbai from Hyderabad and then get on one of the nonstop flights. And if you want to drive further, go all the way near the southern tip of India. After the scenic drive, you can catch a flight from Trivandrum or Kochi, to the Maldives.
Hyderabad to Maldives by Sea
And if you want a tour from Hyderabad to Maldives by ship, travel to Mumbai. Costa Cruise organises a 7-night cruise trip from Mumbai to the Maldives. Get on board to enjoy a luxurious journey through the Indian Ocean to Maldives. The ship also stops at New Mangalore and Kochi before anchoring at the Maldives.
India & Maldives Currency
Accepted currencies
The national currency of Maldives is Maldivian Rufiyaa (MVR). But most hotels, restaurants and shops accept payments in US Dollars (USD) and Euro (EUR) as well. Cash and card payments, both, are accepted all over the Maldives. Visa, MasterCard and American Express are the popular debit/credit cards in this island nation.
Apart from USD and EUR, British Pounds (GBP) are also accepted, but not in many places.
Average Conversion rate
Although the rates keep changing, 1 US Dollar (USD) on average converts to around 15.50 MVR. Then, 1 Euro (EUR) equals about 18 MVR and 1 Pound Sterling (GBP) is around 20 MVR. As for Indian Rupee, 1 Maldivian Rufiyaa (MVR) is about 5 Indian Rupee (INR).
Is USD accepted in Maldives?
Yes, USD is widely accepted in most places in the Maldives. It is like the second currency of this country.
Maldives Visa details for Indians
Is a passport required for Indians?
Yes, Indians require a valid passport to travel to the Maldives. And it must be valid for the next six months from the journey date.
Visa Fee
Tourist visas are available for free for Indian travellers. It allows you to stay in the Maldives for up to 30 days. If you want to stay longer, 90-day tourist visas are available at 750 MVR (approx. 3,500 INR).
Visa on Arrival
For Indian travellers, the Maldives offers visa on arrival on presenting the required documents. These documents include the passport, hotel booking confirmation, and the onward/return journey ticket among others.
Discover Maldives
Availability of Indian cuisine in Maldives
Being a popular spot, the Maldives offers a variety of international cuisines, including south & north Indian. You'll find a range of dishes from all corners of India. From veg dishes to non-veg specialities and seafood, you'll find many of your favourite meals in the Maldives. And whether you want to eat some spicy biryani or savour large dosas, you'll get them here.
Some resorts have special restaurants too, preparing and serving only Indian dishes.
Dress code
The Maldives don't have any strict dress code. But you must dress modestly while in public places. Your clothes should cover the shoulders and reach below the knees. Also, men must not be shirtless, especially on public island beaches. Some places also need you to cover your head with a scarf.
However, when you're within a resort or on a private beach, you can wear clothes as per your choice.
Maldives Tour Packages from Hyderabad
You can find a range of Maldives family packages from Hyderabad. While some packages offer all-inclusive deals, others offer only accommodation. Some packages include airfare while others don't.
And, in general, 3-4 nights Hyderabad Maldives packages, including airfare start at around ₹60,000 per person.
These packages, mostly, include only breakfast buffets in their offerings. So, also check the rates for Half Board packages (breakfast and dinner) and Full Board packages (breakfast, lunch and dinner).
Maldives Honeymoon Packages from Hyderabad
Various honeymoon packages also are available for the Maldives. Hyderabad to Maldives Honeymoon Packages start at around ₹80,000 per person for 3-4 nights stay, and they offer various honeymoon freebies to the couples.
The benefits vary from resort to resort. But the packages offer options like beach-side dinners, romantic excursions, special room upgrades, and other similar services to make your honeymoon memorable.