Shimmering white beaches with turquoise lagoons around them and greenery of refreshing palm trees create a soothing picture of Maldivian Island. Enjoy the best of every second of this valuable and romantic time on your honeymoon with each other in the beautiful backdrop of Maldives.
Our all-inclusive Delhi to Maldives Honeymoon Packages offers you the most memorable and thrilling time of your life with a promise of a relaxed and hassle free vacation. With Maldives pristine beaches along with clear sky above your head and vast Indian Ocean caressing you make for an exceptionally romantic setting to express your love.
The pleasant climate and idyllic beauty of Maldives draws thousands of honeymoon couples from Delhi every year. Get away from the hustle and bustle of the outer world into your own world in the secluded beaches of Maldives. Share your love and care for each other with our exclusive tailor-made Maldives honeymoon package starting from Delhi.
Why Choose Maldives for your Honeymoon?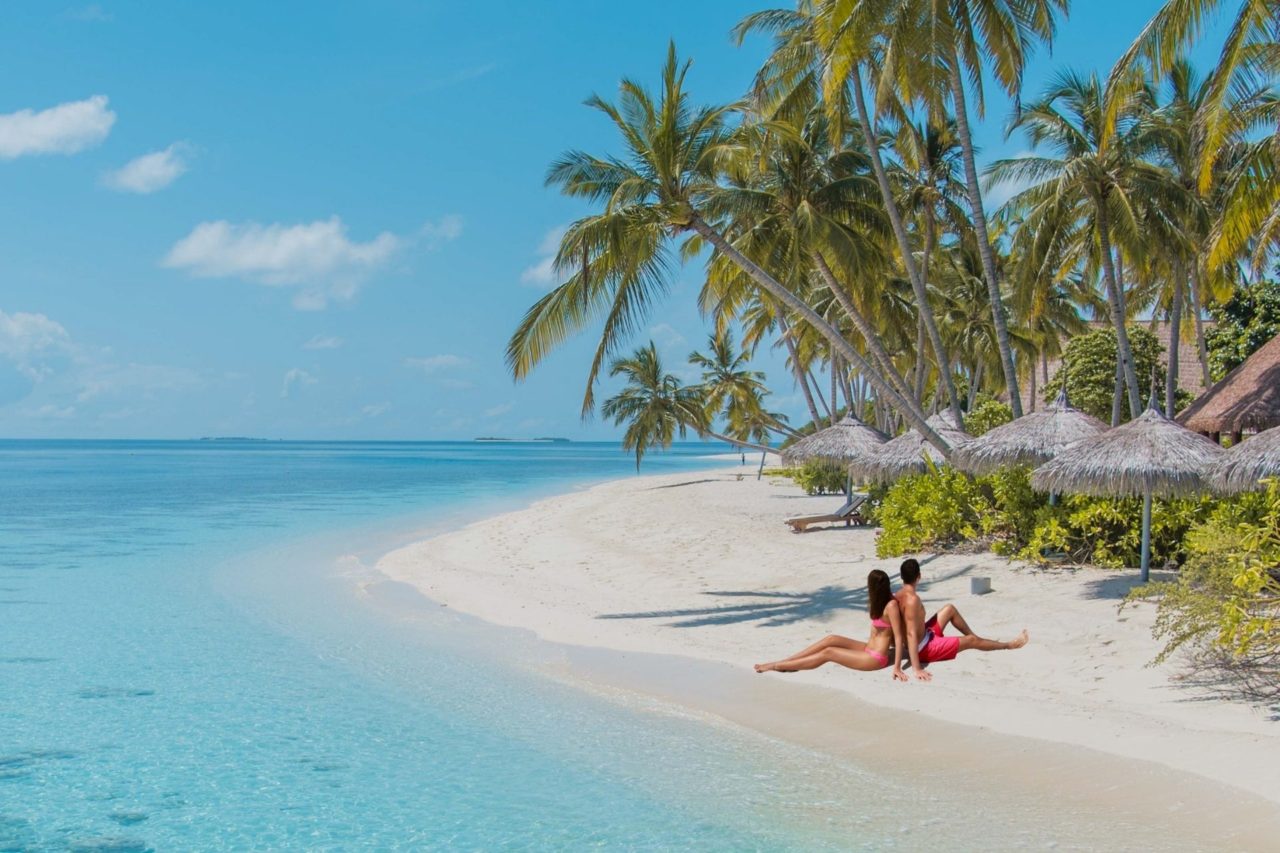 The Maldivian Island has breathtaking scenic beauty, soothing atmosphere, luxurious accommodations, exciting water sports and excursions presenting an all inclusive honeymoon package. Choose from our wide variety of exclusive Delhi to Maldives honeymoon packages for 3 day to 7+ days.
Maldives, a small heavenly island surrounded by miles and miles of ocean with sugar white sandy beaches. It has crystal clear turquoise lagoons, attractive coral reefs and lush green vegetation and many more for the honeymoon couples in the shades of blue sky. Maldives is a place filled with romance and passion.
Walk through the sun kissed beaches hand in hand enjoying the murmuring of the waves and soft touch of the sugar white sand. You can enjoy various activities to do in the Maldives or just relax in the uncrowded beaches enjoying the pleasant company of each other. The charm of these moments will last forever.
We specialize in bringing the two hearts together, as we provide the perfect ambiance and settings for that. Our team makes sure that you get enough privacy in the hotels we offer and the perfect ambiance for budding romance to nurture. We include certain love factors while arranging for the room.
Cruises such as sunset or sunrise cruise or picnic on deserted island provide you with some romantic private moments as well. If you want to indulge in pampering yourself, spa treatments in Maldives offer excellent options for couples to rejuvenate themselves amidst the breathtaking scenic beauty of the Islands. All these aspects make your honeymoon even more special.
Activities & Things to do on your Maldives Honeymoon from Ahmedabad
Not just the beaches of the Maldives, the beauty beneath the Indian Ocean is also captivating. Mesmerising coral gardens and exquisite marine creatures also make for a beautiful natural setting. Maldives offers honeymoon couples from Delhi not just beautiful natural settings but also a refreshing and soothing atmosphere to relax and laze around.
Honeymooner's will have umpteen numbers of water based sports and full day excursions to go for as well providing a touch of excitement and thrill to your otherwise calm vacation.
Maldivian islands offer excellent conditions and environment for various kinds of water sports such as high visibility, favourable water temperature along with rich marine life. Visibility in the water is up to 15 – 40 metres (50 – 130 feet) making it much easier for the tourists from Delhi to view the life beneath the Indian Ocean.
The temperature of water is mostly moderate. For example, the temperature of water in February and July is 24°C (75°F) and 27°C (81°F) in April, May and September. Along with natural settings, even the facilities offered by most of the popular resorts in the Maldives make accessing these activities easier.
Not just favourable weather conditions, the Maldives also boasts of exotic marine creatures and vegetation. One can also plan an activity like swimming with Sharks in the Maldives where you will find a wide variety of sharks including grey reef sharks, white tip reef sharks.
Napoleon wrasse, parrotfish, snappers, barracudas, jacks, sweetlips, hammerheads, eagle rays, manta rays, turtles, frogfish, triggerfish, surgeonfish, trevallies, etc. are few of the creatures that you can find while trying out various water sports in Maldives. You can add some of these activities based on your preferences to your Delhi to Maldives honeymoon package.
Most common water sports in Maldives are water skiing, wakeboarding, knee boarding, banana riding, catamaran rides, speed boating, fun tubes, mono skiing, kite surfing, glass bottom boat, jet skiing, etc.
The island provides amazing conditions for all these sports, especially honeymoon couples planning snorkelling and scuba diving together. Along with exotic marine life, you have amazing dive sites such as Lion's Head, Kudu Haa, Girifushi Thila, Middle Point, Nassimo Thila, Okobe Thila, Sunlight Thila, Maldives Victory and Banana Reef.
The island has an amazing surf break for the sport of surfing as well. Best ones are mostly available in North and South Male' Atoll. The average size of reef breakers is 4-5 feet which rises up to 8-10 feet during the surf monsoon. If you want to have the best of surfing experience, you must visit the island between the months of May and October.
If you are a fishing lover, Maldives present you with varied options for fishing as well. You can choose any of these-morning fishing, big games fishing and night fishing. Some of the common catches are sailfish, swordfish, marlin, wahoo, barracuda, and yellowfin tuna.
Parasailing also presents an interesting option for honeymooners from Delhi and offers you a breathtaking view of the island. You can also go for catamaran sailing. There are many speedboats and water skis available for rent for the sport of water skiing. Water sports in Maldives are of umpteen kinds and cater to varied interests and liking.
Maldives Honeymoon Packages from Other Cities
Why Book with Us
Maldives holds the most wonderful staying options for honeymoon couples. There are many honeymoon resorts in the Maldives. We have carefully curated a list of the best honeymoon resorts in the Maldives. You can choose the room type of your preference from options including Maldives Honeymoon Water Villas, Maldives Beach Bungalows with Jacuzzi and a private pool.
Our resorts located amidst the scenic beauty of Maldives make your honeymoon special providing a wonderful stay. At the resort, together you can enjoy a delicious dinner and relaxing spa. Make your honeymoon the most beautiful and special with Maldives Tourism from Holidays DNA.
The Maldives Honeymoon Packages from Delhi designed by Maldives Tourism is the most preferred one with its attractive honeymoon add-ons at a reasonable price.