The Maldives is known for its beaches with white sand, warm temperature-controlled clear blue water, lively coral reefs with colorful fish, and luxurious resorts. Beyond lavish holidaying in the lap of nature, the country also offers water sports such as diving, snorkeling, and sea safari. Moreover, there are also unexplored uninhabited islands for you to explore.
Maldives has ample sites ideal for relaxation away from the bustle of Kerala. It offers a fine blend of modern and traditional ways of life, allowing you to enjoy the best of both worlds. You can find a range of Maldives tour packages from Kerala, depending on your interests and spend some leisure time at the archipelago.
Why do people from Kerala love Maldives for vacation?
Kerala is a famous tourist destination in India, blessed abundantly by nature. Popularly known as 'God's Own Country' the state has picturesque backwaters and beaches. But people from Kerala love the Maldives for vacation as they get a lot of enthralling activities to enjoy.
From exploring the beautiful coral reefs to swimming with the sharks you can have the most exciting holiday in Maldives. People also love to explore the Maldivian culture and traditions influenced by the island environment which varies from the culture of Kerala. You also get to explore the stunning wonders of the world underwater.
Kerala to Maldives Package Overview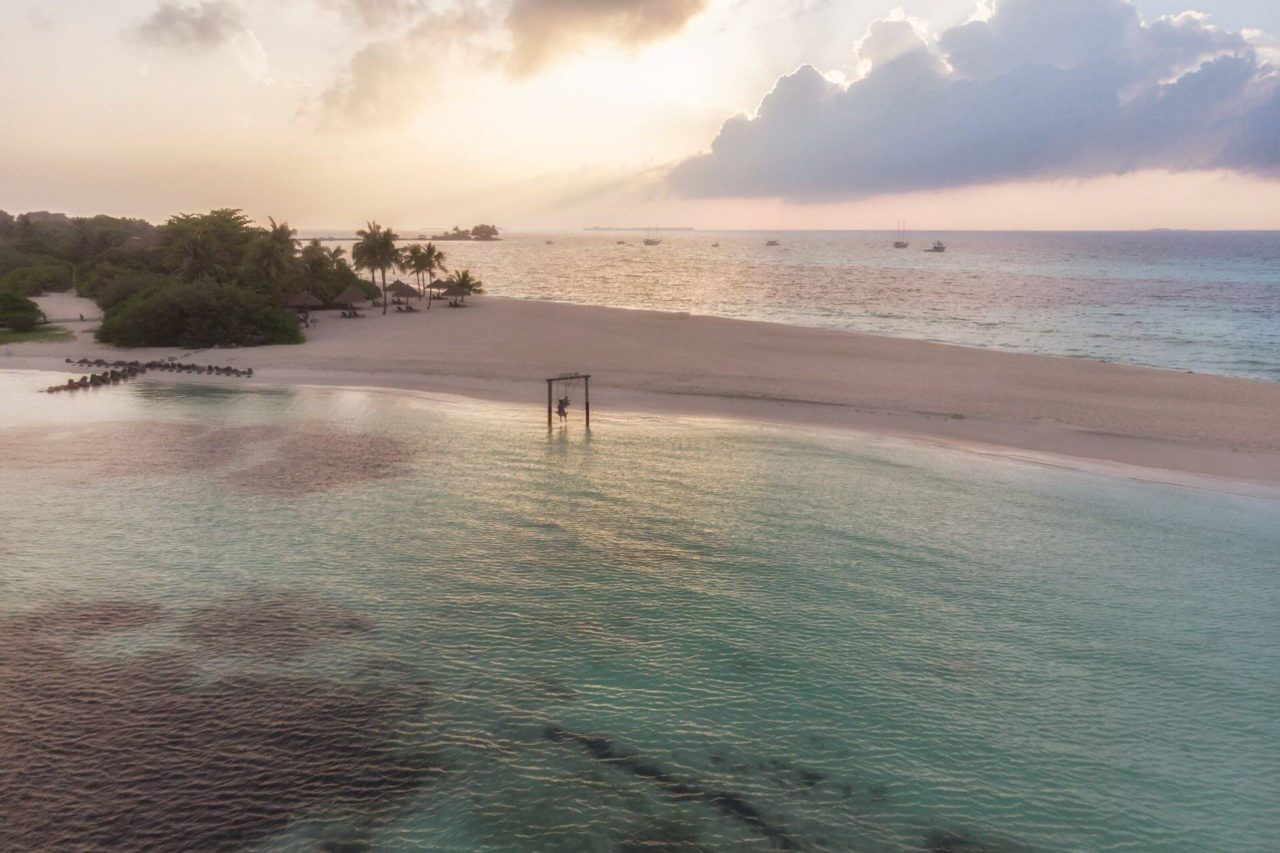 Maldives holiday packages by Maldives Tourism allow you to explore the best of the country. Our Kerala to Maldives holiday packages include to and return flights from Kochi, local transport, airport transfers, accommodation, and breakfast.
Some of our holiday packages also include fun activities like water sports, island hopping, and walking tours. We cover destinations such as Maafushi, Addu Atoll, COMO Cocoa Island, and more. Book your Maldives holiday with us and let us take care of everything for you.
With options to upgrade to all-inclusive or half board packages, you can tailor your Maldives holiday packages from India exactly how you want it. You can include adventure activities such as fishing, surfing, flyboarding, and a seaplane tour of the Maldives. To add a dash of romance to your holiday you can opt for a sunset cruise, a rejuvenating spa treatment, and a candlelight dinner at the beach. We also offer all-inclusive Maldives Honeymoon Packages from Kerala for couples.
Why Book with us?
Maldives Tourism offers a variety of packages from Kerala to the Maldives. We take care of your entire trip from tickets to accommodation and entertainment to ensure you enjoy yourself to the fullest. We have packages for both individual and group trips along with the option to choose the most affordable resorts in Maldives and luxury beach resorts.
With a host of packages and customization options, planning the perfect holiday in the Maldives becomes extremely easy with Maldives Tourism. Our travel experts take care of flight bookings, hotels, and activities for a safe and affordable journey. We make sure you enjoy your holiday in the Maldives without worrying about anything.
Resort & Hotels options with our Maldives Tour Packages from Kerala
You can pick from a variety of stay options in the Maldives from our Maldives Tour Packages from Kerala. Some of the best resorts and hotels in the Maldives are:
Bandos Island Resort
Among the top resorts in the Maldives, the Bandos Island Resort has a collection of elegant beach-facing villas that can accommodate couples as well as families alike. It is one of the most preferred resorts with our Maldives package for couples from India. Guests staying at Bandos Island are provided with world-class amenities, varied dining options, spa treatments, water sports activities along with other recreational facilities.
The Sun Siyam Iru Fushi Maldives
The Sun Siyam Iru Fushi Maldives is a contemporary five-star property, favored by many travelers to Maldives from India. Blessed with picturesque landscape, this resort offers the best of relaxation and adventure. From award-winning spa treatments to well-planned family activities you can enjoy your holiday to the fullest at the luxe resort.
Lily Beach Resort & Spa
A luxurious resort located on Huvahendhoo Island, Lily Beach Resort & Spa offers overwater bungalows and beach villas with excellent amenities. The property is perfect for those looking for a luxurious escape into the pristine beauty of Maldives. With a range of water sports activities and spa treatments available, guests will never find themselves bored at Lily Beach Resort.
Popular Sightseeing Places in the Maldives
Each corner of the Maldives is filled with natural beauty, however, the most popular sightseeing places are:
Artificial Beach
Located in North Male Atoll, Artificial Beach is among the most popular places to visit in the Maldives. You can enjoy swimming and attend carnivals at the beach.
Maamigili
A renowned fishing island, Maamigili is also known as the 'Whale Shark Island'. The island is known for its white sandy beaches and crystal clear waters. You must also visit the Maamigili Whale Shark Point to enjoy the best diving and snorkeling experience in Asia.
Dharavandhoo Island
A laid-back village, Dharavandhoo Island is home to the best diving sites in the Maldives. You can explore the reef by swimming or snorkeling at this UNESCO Biosphere Reserve. Activities such as picnic, fishing, and barbecues on the beach can also be enjoyed on the pristine Dharavandhoo Island.
Baros Island
Baros Island is perfect for the calmest holiday in the Maldives. It is one of the most beautiful islands in the country and offers excellent diving opportunities. The palm-fringed white sand beaches of Baros Island offer the best backdrop for your stunning holiday pictures from the Maldives.
Activities & Things to do in the Maldives
The Maldives offers a horde of things to make your vacations on the archipelago an action-packed affair. You can try these popular activities to do in the Maldives:
Island Hopping: Visit the least explored beaches of the Maldives away from the bustle of tourists. You can go diving and discover the underwater beauty that has made the Maldives a dream destination. Visiting these untouched islands leaves you with memorable experiences to cherish even long after your return from this tropical paradise.
Dolphin Watching: Witness the beautiful ocean creatures swimming and diving in their natural habitat. There are around 20 species of dolphin inhabiting the Indian Ocean around the Maldives. You can't help but marvel as you see them playing tricks just next to your Dhoni.
Snorkeling: The Maldives has some of the best snorkeling sites around its coral reefs, especially in North Male Atoll. Snorkelers can enjoy the calm, clear water and witness the colorful reef. The view underwater is spectacular leaving you wanting for more.
Shopping in the Maldives
During your stay in the Maldives, shopping will surely be one of the important things to do. There are several famous shopping places in the Maldives which you must visit. The coastal areas in the Maldives have a number of beachwear shops for you to purchase traditional dresses, apparel, and other handicrafts.
The main markets of Maldives are Male Local Market, Le Cute, Island Bazaar, Chaandhanee Magu, and STO Trade Centre. Many resorts also have their own gift shop where they sell attractive items. There are many small boutiques scattered throughout the country where you can purchase traditional attires, sandalwood products, shell collections, etc.
There are uncountable things which you can buy from the Maldives Islands to take back home as souvenirs. You can buy:
Miniature Dhoni: The centuries-old local boats called Dhoni are used to travel between islands. You can pick beautifully carved wooden miniature Dhonis as a souvenir from your trip. You can also gift them to your family members and friends.
Sarongs: For those who love the traditional Maldivian way of life, be sure to buy a Sarong on your next trip. They are one of the most authentic souvenirs you can get from this island nation. The traditional clothing comes in different colors with unique floral prints.
How to reach Maldives from Kerala
The Velana International Airport is the main airport of the Maldives that connects the archipelago to the world. You can reach the Maldives from Kerala via one of the following routes:
Flight from Trivandrum to the Maldives- It takes only 1-2 hours to reach the Maldives.
Flight from Kochi to the Maldives- Similar to the other option, this route is also direct and you take only 1-2 hours to reach Male.
Flight from Kannur to the Maldives- This route is also direct but it takes slightly longer to reach Male, i.e. around 3-4 hours.
---
If you are planning your next holiday, then the Maldives is the perfect destination. The country is a tropical paradise with white sand beaches and clear blue water. There are so many things to do in the Maldives for all types of travelers. From diving deep into the sea to exploring nature as you relax at the beach, there truly is something for everyone in the Maldives.
Maldives Tourism offers a variety of Maldives tour packages for those who want to explore this beautiful destination. Whether you are looking forward to either adventure or relaxation or even both-our packages are perfect for you.