Miles away from the crowd of Bangalore, a holiday in the Maldives is a pleasant retreat. The Maldives is an island nation, located to the south-west of India. It is a group of over 1000 coral islands, and it is among the most popular beach destinations in the world. The distance from Bangalore to Maldives is about 1100 km and you have plenty of options to reach Maldives from Bangalore.
Instead of waiting on a packed road, you can be jet-skiing in the blue water of the Indian Ocean. And instead, breaking your back in the office, you can be lying down on the beach, sipping a freshly squeezed lime soda.
Whether you want to enjoy a romantic recess with your partner or get together for fun-filled family time, the Maldives serve the purpose. Maldives, a cluster of small low lying coral islands presenting exceptional natural settings and breathtaking sceneries. For Bengalureans, it is one of the most sought after tourist destinations.
Its shimmering white beaches surrounded by turquoise lagoons and palm trees along with mesmerising coral gardens beneath the Indian Ocean create a perfect setting to spend a few memorable days of your life. The island offers a refreshing break from the Bangalore hustle bustle with its calm and serene atmosphere.
Some of the popular water sports available in Maldives are water skiing, jet skiing, snorkelling, scuba diving, parasailing, surfing, dolphin and whale watching. Check this guide to find all the important tourism-related information before you plan a trip.
Maldives Map from Bangalore, India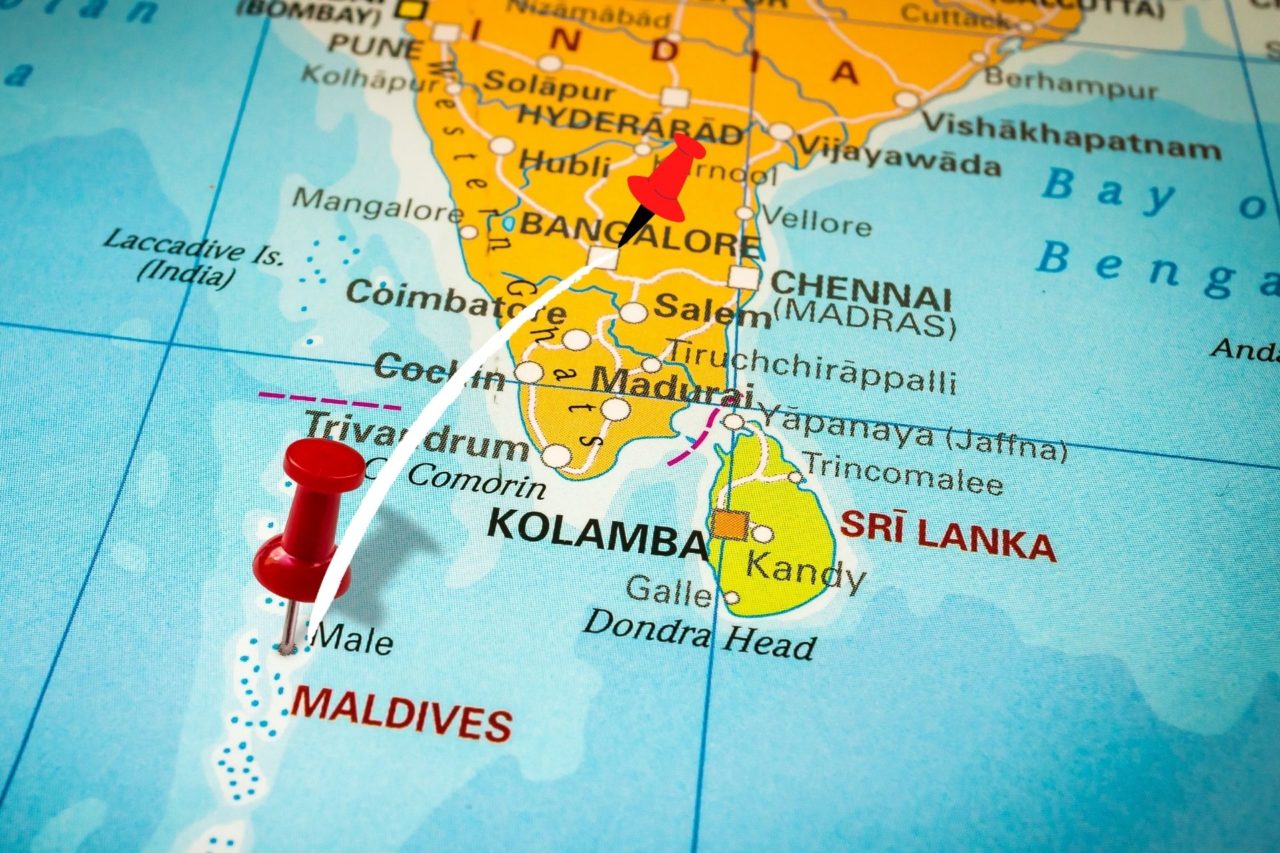 How to reach Maldives from Bangalore?
Bangalore to Maldives by Flight
Duration
You'll find regular flights between Bangalore and Maldives. While some are non-stop, others stop at one or more than one airport before landing in Maldives. The direct flights take around 2 hours to reach the Maldives. The others take 5-10 hours or more to cover the distance.
Flight Companies
GoAir has Bangalore Maldives direct flight, taking 2 hours to reach Velana International Airport in Malé. Indigo has one-stop flights, via Mumbai, which take around 8 hours. And Srilankan Airways flights, via Colombo, take about 5 hours from Bangalore to Malé Maldives.
Some flights of Srilankan Airways also land at Gan International Airport, instead of the airport in Malé. Other flight operators, like Emirates and Etihad Airways too, have regular flights from Bangalore. But they take 10-15 hours or more to reach the Maldives.
Average ticket price
The average Bangalore to Maldives airfare for direct GoAir flights is around ₹10,000 per person. And the ticket prices per person for one-stop Indigo and Srilankan Airways fall between ₹15,000 and ₹25,000. The tickets of other flights cost around ₹40,000 or more.
Maldives Airport
Flights from Bangalore land at Velana International Airport. It is the main international airport in the Maldives. The airport is on Hulhule island, near the capital city Malé.
From the airport, you will find seaplanes or speedboats to reach your destination island. And your tour operator or resort can also pick you up from the airport. Many luxurious resorts have seaplanes and speed boats for their guests.
Gan International Airport is another international airport in the Maldives. It is in the southern Maldives, and some Srilankan Airways flights land there. So, make sure you check your tickets and booking confirmations before embarking on your Bangalore to Maldives trip.
Bangalore to Maldives by Road (possibility)
The Maldives doesn't have direct road connectivity with India. Still, you can enjoy a short road trip on your way to the Maldives.
Instead of taking a flight from Bangalore, you can enjoy a road trip to Mumbai. And from Mumbai, you can catch a flight to the Maldives. Most regular flights land at the Velana International Airport. Then, you also have the option to travel to Trivandrum or Kochi. Those two cities have few direct flights to Hanimaadhoo International Airport in the Maldives.
Bangalore to Maldives by Sea
And you can also live the dream of travelling to the Maldives by sea. Travel to Mumbai and get onboard the 7-night cruise from Mumbai to Maldives organised by Costa Cruise. The ship also stops at New Mangalore and Kochi while going to the Maldives.
India & Maldives Currency
Accepted currencies
Although the national currency of Maldives is Maldivian Rufiyaa (MVR), payments in US Dollars (USD) and Euro (EUR) are common. Most hotels, restaurants and shops accept cash as well as credit card payments in those currencies. British Pounds (GBP) are also accepted, but not in many places.
As for debit/credit card payments, you won't face problems paying with your Visa, MasterCard or American Express cards.
Average Conversion rate
1 Maldivian Rufiyaa (MVR) equals to around 5 Indian Rupee (INR). And 1 US Dollar (USD) on average converts to around 15.50 MVR. Then, 1 Euro (EUR) is about 18 MVR and 1 Pound Sterling (GBP) is around 20 MVR.
However, you must carry enough cash/credit during your Maldives honeymoon trip from Bangalore. The rates can fluctuate a lot depending on the economic conditions.
Is USD accepted in Maldives?
The US Dollar is the most common currency in the Maldives. In the tourist areas, it might even be more popular than Rufiyaa. And it is accepted in most places; in the local shops too.
Maldives Visa details for Indians
Is a passport required for Indians?
A valid passport is required for the India to Maldives trip. And it must be valid for the next six months.
Visa Fee
For Indian travellers, tourist visas, for up to 30 days, are available at no cost. But to get an extended stay, for up to 90 days, 750 MVR (approx. 3,500 INR) would be needed.
Visa on Arrival
The Maldives offers visa on arrival for Indian travellers. Show the required documents, and you'll get the visa. The documents include your passport, hotel booking confirmation, and the onward/return ticket from Bengaluru among others.
Discover Maldives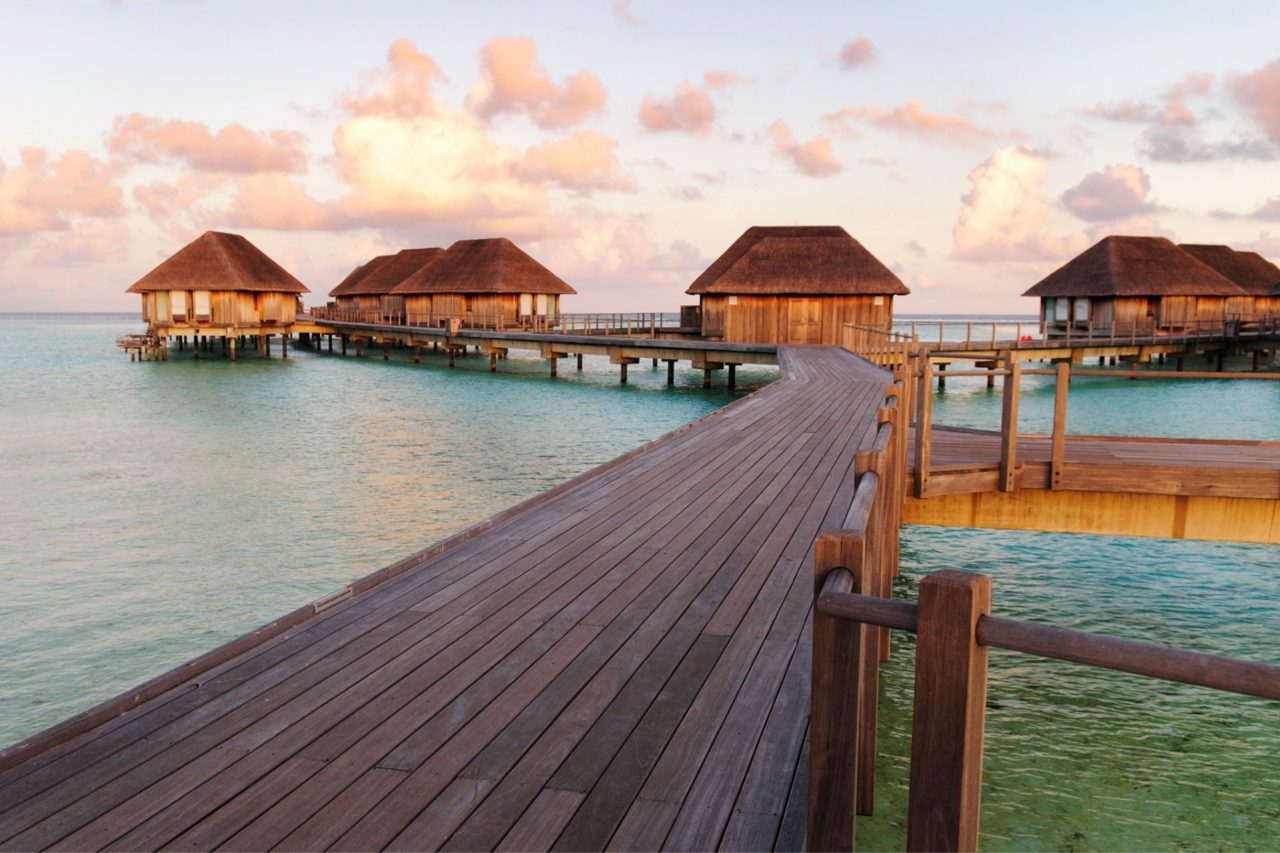 Availability of South / North Indian cuisine in Maldives
You'll find plenty of dishes from Indian cuisine in the Maldives. Whether you want to savour some mouth-watering biryani in lunch or have a delectable dosa during breakfast, you can have them. From a vast choice of flatbreads to a range of seafood specialities, the Maldives offers everything.
In many resorts in the Maldives, you'll also find restaurants, dedicated to serving only Indian dishes.
Dress code
You don't have any dress code to follow. And while you're in your Maldives over water villa resort or on private beaches, you can dress whichever way you want.
But dress modestly when you're in public places. Pack clothes which cover the shoulders and reach below the knees. And men must not be shirtless. In some places, you will also need to cover your head with a scarf.
Maldives Tour Packages from Bangalore
Tour operators offer a range of options for a holiday in the Maldives. And, in general, 3-4 nights Bangalore to Maldives packages, including airfare start at around ₹50,000 and ₹60,000.
Most tour packages include only breakfast buffet in their offerings. So, also check the rates for packages with Half Board (breakfast and dinner) or Full Board (breakfast, lunch and dinner) meal plans.
Maldives Honeymoon Packages from Bangalore
You can also find special all-inclusive Bangalore to Maldives honeymoon packages. These 3-4 night packages start at around ₹70,000 and ₹80,000, and they offer various honeymoon freebies and other benefits.
From beach-side dinners to romantic excursions and activities in the Maldives, you'll find many options to make your honeymoon memorable.