The Maldives may be home to some of the most expensive resorts in the world, but it is quite possible to enjoy a vacation there without breaking the bank. If you are wondering how to plan a budget trip to Maldives from India, you'll find multiple ways to do so.
Even if you manage your flights and stay, you may not know what to do in Maldives on a budget. A comprehensive holiday plan to this archipelago should leave nothing to chance. Follow these tips to make the most of your money on your island vacay.
Book your Flights in Advance
Air tickets from India to Maldives are quite reasonable, especially if you book non-stop routes and a few months in advance. One-way fares can be as low as INR 6,000 per person for Bengaluru to Malé – capital city of The Maldives.
The fare from other Indian cities only differs by a few thousand rupees. Instead of waiting for your holiday dates to get closer, book your flights as soon as you have your resort in The Maldives blocked.
Pick Public Islands over Private Ones
Maldives luxury villas may lure you with their glamour and grandeur, but if you have a budget that you need to stick to, skip the expensive private island resorts for public islands. There are roughly 1,200 islands in The Maldives, and you'll be spoilt for choice when looking for a local isle.
Public islands are inhabited by the local Maldivians, and offer a more wholesome vacation experience, with affordable water activities, indigenous food and interactions with the Muslim islanders.
Most public islands are well connected to Malé – the world's smallest capital and can be reached from the Velana International Airport via public ferries with a couple of stops. Some local islands you can consider are Rasdhoo, Guraidhoo, Gulhi, Maafushi, Ukulhas, Huraa, Himmafushi, Hulhumalé, Thulusdhoo, Fulidhoo, Mathiveri and Dhiffushi.
Scout for Discounts on Maldives Vacation Packages from India
Many hotels in The Maldives offer deep discounts if you book several months in advance or during the off-peak months of July to September. If you keep an eye out for the online rates of Maldives water villas with pool, you'll be able to score as much as 50% off if you are lucky.
If you are not booking directly with the property but going through a travel agent, it helps to ask for quotations of Maldives tour packages from India from different providers and compare their rates and services before zeroing in on one.
Choose Resorts with Speedboat Transfers over Seaplane Ones
The Maldives is located in the Indian Ocean in a way that these little islands are scattered on either side of the equator. If you plan to select a resort island that is far away from Maldives International Airport, you'll be paying a higher price for seaplane transfers.
Alternatively, if your destination island is less than a couple of hours away from the airport island, a speedboat transfer will be offered to you – at a much lower rate as compared to internal flights or seaplanes.
To put things in perspective, a private seaplane ride can cost anywhere between USD 200 to USD 1,000 per person, whereas a ride on a public slow dhoni will just cost USD 5.
Look for Guest Houses instead of Fancy Hotels
The idea of a Maldives water villa with pool and Jacuzzi may sound appealing. But if you are on a shoestring budget, a guest house on a public island will save you a lot of precious bucks. Apart from huge savings on the accommodation itself, you'll also find meals and water activities at a much lower rate than at Maldives resorts on water.
The only thing to keep in mind on a local island is that they follow Islamic rules there. Maldives' history and culture is heavily influenced by Islam, and visitors are required to dress modestly, except on designated 'bikini beaches'.
Ditch the Peak Season
The best thing about The Maldives is that it is in season all round the year. The tropical island climate here means that there are only two seasons – dry and wet. Maldives' weather is usually sunny and mildly humid, with temperatures hovering between 25 and 30 degrees Celsius.
The tourist season in this Asian country is from November to January, when the weather is at its best. The low season coincides with the wettest months of May to August, although March is the hottest month. If you avoid travelling in the peak season, you automatically save, thanks to off-season discounts.
If you wish to make the best of both worlds and travel with great weather along with affordable prices, pick the shoulder season – September to October and February when it rains only for a few minutes and is pleasant otherwise.
In any case, the seasons in the Northern Hemisphere are opposite to those in the Southern Hemisphere. Maldives stretches across both the hemispheres, so you can choose where you want to spend your holiday.
Bring your Own Snorkelling Equipment
Most resorts charge a nominal snorkel rental fee (about USD 10 per person) on a daily basis. If you wish to ensure your snorkel fits you and want the liberty to snorkel at any time of the day without worrying about returning the gear, get your own snorkel.
Buying a snorkel, mask and fins is much cheaper in India than renting it in The Maldives. You will even be able to choose if you want a breathable face-mask-style snorkel or the simple pipe and goggles.
Pre-book your Water Sports & Spa Activities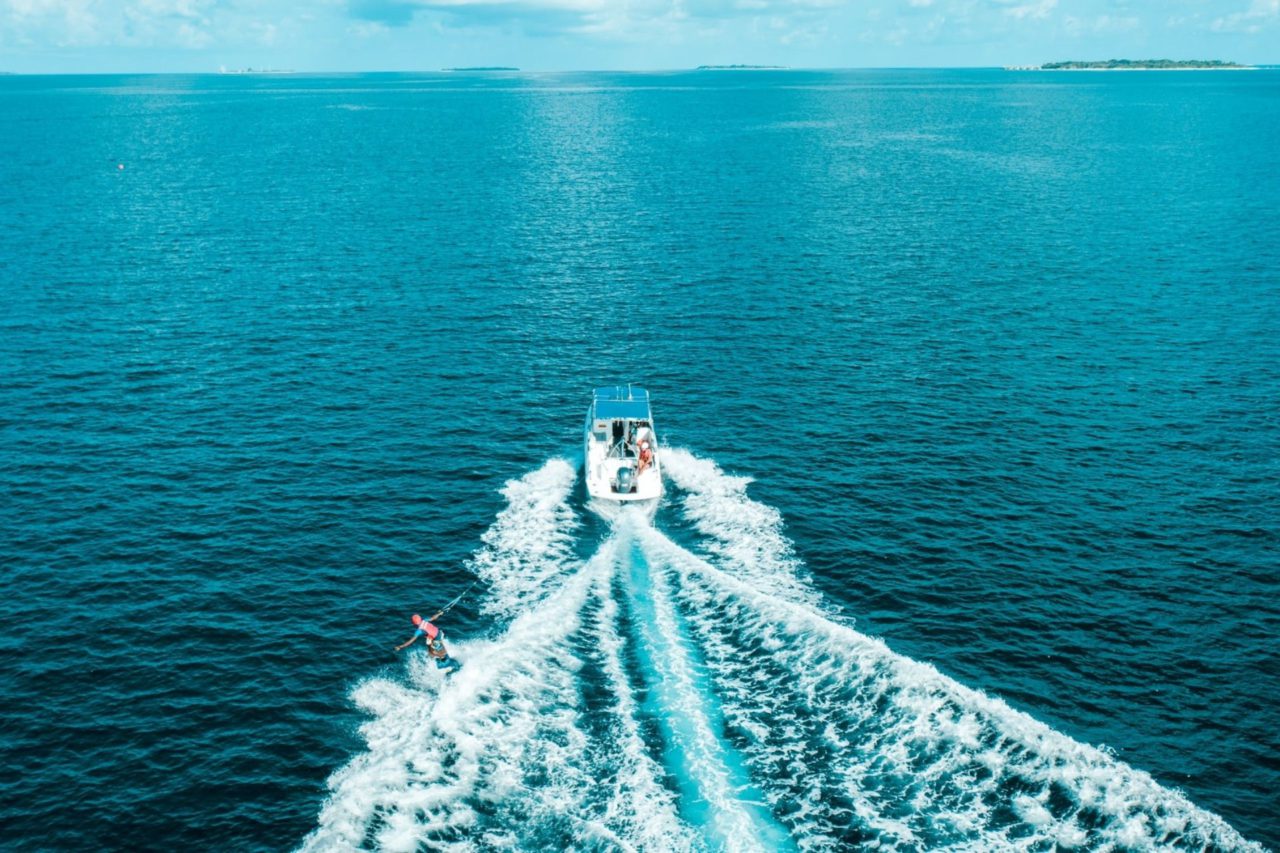 If you are the happy-go-lucky kind of traveller who wants to wait until you're on the island to think of what activities to take up, you'll see yourself paying through the nose for kayaking, stand-up paddleboarding (SUP), diving or snorkelling trips.
It is always prudent to make a list of the experiences you want and book activities in Maldives when finalizing the resort or hotel you'll be staying at. Most hoteliers throw in complimentary activities, especially when you book a India to Maldives vacation package through a travel agent.
The same goes for spa treatments. Even a short foot massage can cost upwards of USD 100 and full-body massages are generally more than USD 1,000 per person. However, some of the best all-inclusive islands in The Maldives will give you a complimentary couple spa credit or a steep discount on their therapies.
Buy Souvenirs only at Local Islands
The silliest thing to spend on private island hotels in The Maldives is souvenirs. You won't find much variety at the boutique stores on the private islands, and the small options that you have will almost always cost a bomb.
A smarter way to shop for gifts for your friends and family back in India is to go on Maldives island hopping tours and buy handicrafts, fridge magnets, clothing, coconut shell souvenirs and handbags from the local stores on public islands. You'll find amazing choices at affordable rates, on which you can also bargain.
Sign up for Walking Tours
Maldives Water Bungalows can only keep you engaged for so long. After you have taken pictures, relaxed in your cocoon and explored the tiny private island, you will want to see more of The Maldives.
Maldives walking tours are a fantastic way to get to know the local culture and landscape with a Maldivian guide. Take your pick from the half-day Malé City walking tour, Huraa Island walking tour, 4-hour Villimalé eco walking tour, Guraidhoo walking tour Thoddoo walking tour and more.
The price per adult ranges from USD 45 to USD 250, which includes all taxes, guide fees, local transfers and sometimes meals as well. Walking tours are much cheaper and more interactive than in-villa activities such as floating breakfasts, couple massages or cooking with the chef.
Switch 5-Star Dining with Local Eateries
Maldives honeymoon packages from India often have attractive all-inclusive dining options with free-flowing alcohol, in-villa dining on the deck and romantic sandbank date nights. However, for explorers who want their vacation to be light on their pocket, public islands offer interesting alternatives.
Even inhabited islands have beachside dining for couples, especially the hotels that are located on the seafront. Many restaurants on the island of Maafushi have candlelight beach dining options, with a special menu and a heart-shape etched on the sand with the table placed at its centre.
Apart from affordable restaurants, beach shacks and local stalls on inhabited islands let you taste freshly cooked delicacies at a fraction of the cost of upscale restaurants on private isles. You will only be spending around USD 10 at a local eatery, compared to upwards of USD 400 on private islands.
For a twist to regular dining, take a look at Maldives local food tours. For about USD 60 per meal, you will not only get to visit a local island and a Maldivian family, but also taste homemade food and learn the secrets of Maldivian cuisine.
---
Now that you have a fair idea of how to plan a budget trip to Maldives from India, book your holiday to this idyllic beach destination and don't worry about having to be a rich Bollywood celebrity to be able to afford a Maldivian vacation.